"Lovely Liquid Lounge" – live strean by thescreen.tv
Title: Liquid Loft + Jin Xing Theater live strean by thescreen
Location: Viena
ImPulsTanz 2009 – Vienna International Dance Festival
Start Time: 19:00
Date: 2009-08-13**
**
Link out: thescreen.tv
Description: Lovely Liquid Lounge
Tags: cultural codes,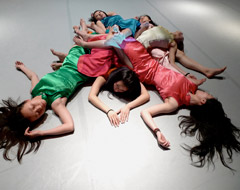 Jin Xing, choreographer and radiant figure of the Chinese art scene, presents an evening featuring various settings and performances. With her company and her stories she enhances Liquid Loft's hybrid world of art. Chris Haring, one of Austria's most renowned choreographers, and the famous Chinese choreographer, dancer, chansonette and actress Jin Xing work on a joint concept about transgressions of social norms and gender codes with regard to design, art, fashion and lifestyles.
The "China Project", the central performance in this lounge, is being developed by Haring's company Liquid Loft together with the Jin Xing Dance Theatre. It examines the social regulations of the body, which are of particular importance to the Chinese artist who used to be a colonel in the Chinese military as a man and had a sex change.
Furthermore, the "Lovely Liquid Lounge" will present meetings with Jin Xing, the solo performance "Ah. Poetry" by spectacular Liquid Loft dancer Stephanie Cumming, a choreography by Chris Haring with Jakob Lena Knebl about the queerness of the "Mode Française" and the piece "Newfoundland" by the Jin Xing Dance Theatre.
Check the video at Sommerszene Salzburg, AT (2009-06-25)